In the spirit of the debate from last week, the SEC is dealing with the firing of another coach.  After a 50-17 loss to Missouri, the University of Tennessee decided to go ahead and part ways with their embattled head coach Butch Jones.
On the contrary to the Jim McElwain situation, Tennessee gave Jones five years to prove his worth.  The last straw was not just the lopsided loss to Missouri, you can look at the fact that game gave them their sixth conference loss in a row.  Tennessee is at the point where they are trying to "wash their hands" with the Butch Jones era.
[Indie Artists: Send Your Music and Cover Art to Mymusic@hiphop-album-debate.com To Be In HHAD Music Area]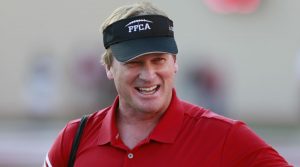 In all under Jones, they went 34-27 overall with an unforgiving 14-24 conference record.  We will break down the "rumored" options they have and see who makes more sense.
The most talked about option as their new head coach is former NFL Super Bowl winning coach, Jon Gruden.  He is currently a Monday Night Football analyst and also during the draft, he goes over the development process with the NFL draft prospects.  The plus with Gruden is that he can go ahead and began recruiting instead of waiting to the end of the season because he is not obligated to another team, college or pro.  He has expressed interest in coaching again, but he did not specify on which level.  The major upside to hiring Gruden is that he has competed and won on the highest football level but the flip-side is that there is no experience with college players.  Tennessee would need to be careful because it is hard to tell how committed he would be to you if the NFL comes calling again.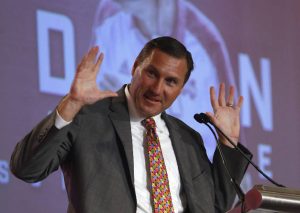 There is a coach within the same conference that is getting traction as a possible replacement, even though he has not spoken a word on the opportunity.  Mississippi State University's head coach, Dan Mullin, has been mentioned to be a great option as head coach of Tennessee.  His current record at Mississippi State is 68-45 overall with a conference record of 34-38.  This record may not seem impressive but you have to take into consideration that he is doing this at the proverbial cellar of the SEC in Starksville, MS with limited recruiting resources, compared to other SEC schools.
["Hip Hop Roundtable" by HHAD podcast coming SOON!]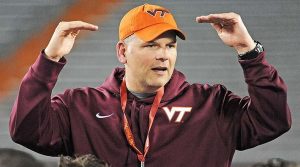 Virginia Tech's head coach Justin Fuente would be a solid replacement for Tennessee.  He single-handedly turned Memphis into a force among the Group of Five programs.  Fuente is in his second season in Blacksburg, VA and under him the Hokies are a contender in the ACC.  His coaching record is 43-20 overall.  The only issue will be if Tennessee can lure him away from Virginia Tech and paint themselves as a better program.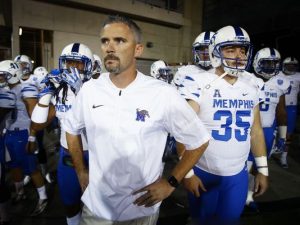 Speaking of Memphis, their current head coach Mike Norvell's name has been mentioned.  His success is piggybacked off what Fuente was able to build at Memphis, but he has been able to maintained the momentum.
Norvell's current starting quarterback, Riley Ferguson, is a Tennessee transfer and is currently starring at that role. In his two seasons in Memphis he has been able to post a 16-6 record with 10-4 in the conference.
Let's Debate! Tell me what you think! #HHSD
SUBSCRIBE TO HHAD'S NEWSLETTER
Do you see one of the coaches mentioned as the next University of Tennessee head coach or will there be someone else?
[Polls Are Closed!!]
No, neither of the aforementioned will be Tennessee's coach. -Unanmously
Yes, Jon Gruden. -0%
Yes, Dan Mullin. -0%
Yes, Justin Fuente. -0%
Yes, Mike Norvell. -0%