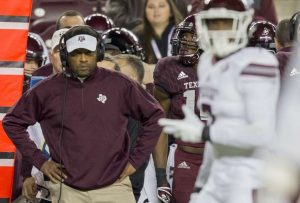 In a decision that shocked no one, Texas A&M University relieved Kevin Sumlin of his head coaching duties following his loss to LSU this past Saturday. The loss brings their season record to 7-5, which is not acceptable to the fan-base and athletic director.
AD, Scott Woodward went on record before the season stating that Sumlin knew he had to win this year.  The last four seasons, the Aggies have been able to start the season off strong, but fizzled when it comes to October and November.  Sumlin kind of created his own demise. In 2012, he guided them to a 11-2 record in their first year in the SEC.  From that point on, the bar was set and somehow it became the expected.  Unfortunately, the wins have deceased every season since that first season going from 9 in 2013 to 7 this year.
[Indie Artists: Send Your Music and Cover Art to Mymusic@hiphop-album-debate.com To Be In HHAD Music Area]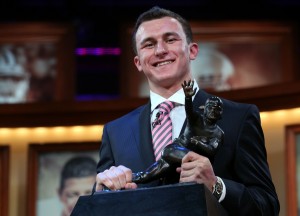 You can say that Sumlin was gifted with a golden goose in Heisman Trophy winning quarterback, Johnny Manziel in 2012 and 2013.  Since Johnny has left for the NFL, the Aggies have had seven different starting quarterbacks in a four year span.  Out of those seven, there have three that transferred from the university.
Jimbo Fisher, former head coach of Florida State Seminoles, has been brought in as Sumlin replacement. Jimbo seems to have the winning pedigree A&M has long for. He guided the Seminoles to the National Championship in 2013.
["Hip Hop Roundtable" by HHAD podcast coming SOON!]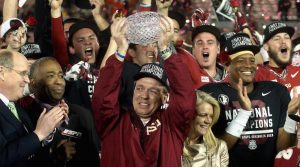 With a record of 83-23 during his tenure, to some, Jimbo's resignation may come as a surprise. However, insiders could see the writing on the wall. Reportedly, Fisher's growing frustrations with the FSU athletic department steams from his request for upgraded facilities.
In College Station, everything is top of the line.  Also, at Texas A&M, Fisher will have access to the rich Texas recruit pipeline.  But will he find success equivalent to his days at Florida State–perhaps bring a championship to "Home of the 12th Man?" That hasn't happened since 1939. Even greats such as Paul "Bear" Bryant and Gene Stallings weren't able to accomplish the task. So what makes Jimbo special?
Let's Debate!  Tell me what you think! #HHSD
SUBSCRIBE TO HHAD'S NEWSLETTER
Do you see Jimbo Fisher winning a championship at Texas A&M Aggies?
[Polls Are Closed!!]
Yes! -50%
An SEC championship, but not national. -50%
No, not at all! -0%