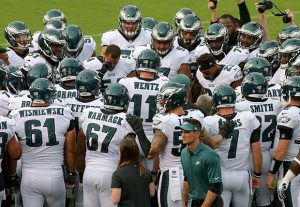 It is safe to say that the 2017 Philadelphia Eagles have exceeded expectations this year.  They are currently 11-2 and have clinched their division with three games left to play.  This version of the Eagles reminds fans of the 2004 team that lost to the New England Patriots in the Super Bowl.  They are led by their second year gritty quarterback, Carson Wentz, who is 10th is passing yards and leads the NFL with 33 touchdowns.
Just when the Eagles where becoming a Super Bowl favorite, their MVP candidate quarterback suffers a season-ending knee injury.  The question now is how will they deal with major adversity?
[Indie Artists: Send Your Music and Cover Art to Mymusic@hiphop-album-debate.com To Be In HHAD Music Area]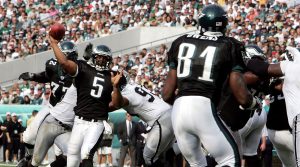 Without Wentz, it is way too early to write off the Philadelphia Eagles.  There is still a lot of football left to be played.  They have been through the major injuries before.  In the aforementioned 2004 season, Terrell Owens broke his ankle in Week 15.  The star receiver would not return until they made it to the Super Bowl. The backup quarterback, Nick Foles, has plenty of experience as a starter in the NFL with 9,313 passing yards and 56 career touchdowns.
["Hip Hop Roundtable" by HHAD podcast coming SOON!]
Expect the Eagles to lean more on the running game with a new stable of backs in Jay Ajayi, LaGarrette Blunt, and Corey Clement.  The head coach, Doug Pederson, has so far pleaded a strong case for NFL Coach of the Year but how the team performs going forward dealing with major adversity will show what he and the team is made of.
Let's Debate! Tell me what you think! #HHSD
SUBSCRIBE TO HHAD'S NEWSLETTER
Do you see the Philadelphia Eagles tanking without Carson Wentz?
[Polls Are Closes]
Yes. They can't survive without him. -Unanimously
No, they will keep striving. -0%