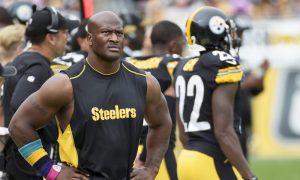 In a move that shocked the sports world, the Pittsburgh Steelers All-Time sack leader James Harrison decides to sign with the New England Patriots after being released. I guess the weird part of this transaction is the fact that both teams were involved in the what some would consider the game of the year just two weeks ago, with the Patriots defeating the Steelers 27-24 due to a controversial overturn of the game winning touchdown by the refs. On one hand, Harrison had the right to sign with whomever he wanted to because of the fact that he was released. The other side of the equation is that this is your bitter rival and the two teams are predicted to meet in the playoffs.
[Indie Artists: Send Your Music and Cover Art to Mymusic@hiphop-album-debate.com To Be In HHAD Music Area]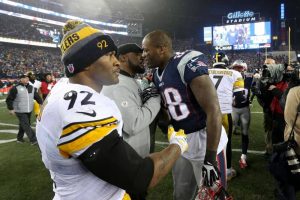 The outside linebacker's decision to join the Patriots rubbed some of his former Steelers teammates the wrong way. Some have publicly expressed their displeasure with his decision. There has been rumbling from inside the locker room that suggest that he is a quitter, even referencing that his legacy will take a hit because of his move. Harrison paints a different story of the situation. One that began with conversations between him and the coaches during when he decided to come back this season. He states that he expected a limited role because of the young talent on that side of the ball. Harrison stated that after the first game of the season he told management that he see that the younger guys are getting the most attention and that they should just release him then so that both sides can "go their separate way." It was after the aforementioned big game against the Patriots, in which he did not see any playing time, that Harrison saw the writing on the wall and really pushed for his release. The experts say that the fact that the Patriots would even pursue him speaks to the mind games that they play as a franchise.
["Hip Hop Roundtable" by HHAD podcast coming SOON!]
Do you see the James Harrison move to the Patriots as a back stab to the Pittsburgh Steelers or was it just a player making a business decision that should not be taken personally by others?
Let's Debate! Tell me what you think! #HHSD
SUBSCRIBE TO HHAD'S NEWSLETTER
Do you see the James Harrison move to the Patriots as a back stab to the Pittsburgh Steelers?
[Polls Are Closed!!]
No. Business is business. -Unanimously
Yes! -0%