It is that time of the year where NFL eligible college football players sit down with their families and weigh whether to come back to school or strike while the iron is hot by entering the NFL Draft.
Normally, the teams that have the first picks in the draft tends to be the ones that under-performed the previous season. Poor quarterback play has been the common factor leading these teams to have terrible seasons. With that being said there are some good quarterback talent in this years draft that could fill those voids immediately. Let's look at the top quarterbacks in this years draft and see which one will make a bigger impact.
[Indie Artists: Send Your Music and Cover Art to Mymusic@hiphop-album-debate.com To Be In HHAD Music Area]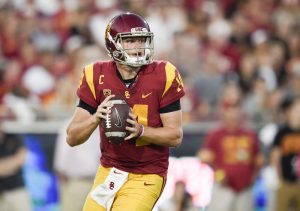 The top of the list belongs to USC's redshirt sophomore quarterback, Sam Darnold. After sitting out his first season with the Trojans, Darnold exploded on the scene in 2016 after incumbent starter Max Browne struggled in the first 3 games of the season. Sam would lose his first start of the season to the Utah Ute, but after that game he guided the Trojans to a 9 game winning streak to finish the season, which included a Rose Bowl win against the Penn State Nittany Lions.
The offense under Darnold averaged 37 points and 518 total yards per game during the streak. The expectations were high going into 2017 for him coming off his stellar redshirt freshman season, which included a Heisman favorite prediction. Unfortunately, the season did not start the way he wanted with as many interceptions in his first 6 games (9) that he had the previous season. With that being said, Darnold was able to lead USC to some big wins this season including a 2017 Pac-12 Conference Championship.
["Hip Hop Roundtable" by HHAD podcast coming SOON!]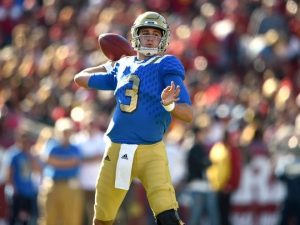 The second guy on this list became the first true freshman to start a season opener at quarterback for the UCLA Bruins in 2015. The junior, Josh Rosen would guide the Bruins to a 8-5 record that season and garner the PAC-12 Freshman Player of the Year award and Freshman All-American. His sophomore season was cut short after he suffered a season-ending shoulder injury. The 2017 season begin with an epic game against the Texas A&M Aggies where he overcame a record 34 point deficit. After 5 games, Rosen led the country in passing yards (2,135), total offense (2,158), and touchdowns (17). He led the PAC-12 in passing yards per game and would be voted second team All-PAC-12. After passing for 3,158, Rosen now holds UCLA's season passing yards record.
The 2016 Heisman Trophy award winner comes in at third. Even though the junior quarterback, Lamar Jackson, has that award he is still being overlooked by analyst/experts as a NFL quarterback. His freshman season with the Louisville Cardinal did not produce a lot early on.
Jackson would finish that season with 1,820 passing yards and 960 rushing yards. The hype began when he earned the 2015 Music City Bowl MVP honors with a 227 passing and 226 rushing–Music City Bowl record–performance against the Texas A&M Aggies.
Jackson would begin his sophomore season with a splash by setting the school record for 8 total touchdowns for game, he accomplished this feat in only the first half. He would become a Heisman front-runner after his five touchdown performance against the Florida State Seminoles. Jackson passed for 3,543 yard with 30 touchdowns and rushed for 1,571 yards with 21 touchdowns. He started the 2017 season as being a dark horse to be a repeat winner of the Heisman. The Cardinals were able to go 8-5 in his junior season with Jackson putting up more passing yards (3,660) and rushing yards (1,601) than his Heisman winning season.
Let's debate! Tell me what you think! #HHSD
SUBSCRIBE TO HHAD'S NEWSLETTER
Who do you see making a bigger impact in the NFL?
[Polls Are Closed!!]
Lamar Jackson -Unanimously
Sam Darnold -0%
Josh Rosen -0%